I have often wondered whether the internal staircases in Palladio's villas were cantilevered or not. From reading Sally and Carl Gable's book Palladian Days: Finding a New Life in a Venetian Country House
 I know that the flights in Villa Corano are made from brick on brick arches – Palladio often used brick instead of stone for economy.
Looking at the plans of the villas in Palladio's The Four Books of Architecture (Dover Pictorial Archives)

is inconclusive. The plan below is of Villa la Rotunda and you can see the 4 internal staircases squeezed around the central room.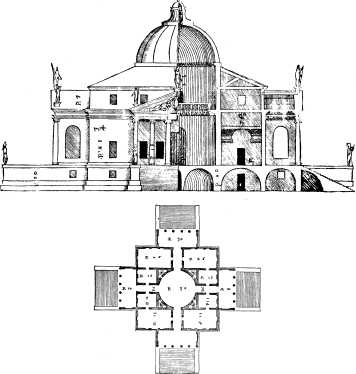 Looking at the plan of Villa la Rotunda in "Inigo Jones on Palladio" pg 19 (which is a copy of Jones's marked up copy of Palladio's "The Four Books of Architecture") is more useful – The page is marked 24 Sept 1613, which is when Jones was on a Grand Tour of Europe with the Earl of Arundel. Presumably this is the date of his visit to the villa.
Jones  has writen "ther is 2 triangle staires of wood volts and slight and 2 a lumacha round"
Lumache literally translates from Italian as snail, which is how cantilever stone staircases with an elliptical or circular plan are described.
Further investigation revealed the plan below, which clearly shows the two stone flights.
From archive photographs I believe that one flight spirals clockwise and the other goes anticlockwise.
From the photograph below it seems that the soffit of this flight is swept and each tread has a very large overlap with the tread below. I shall have to go and visit to find out more!
Photograph by David Bunbury